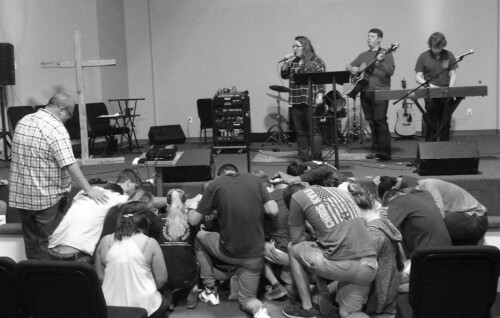 At First Free Will Baptist Church we believe strongly in raising a child to love and fear God. Proverbs 22:6 commands us to train our children in the way they should go. Student Ministries seeks to do just that by helping our young people find God's will in their life through service and worship.
Our young people work exceptionally hard in and around our community by spreading God's Word and ministering to those who are lost by doing missions work throughout the year. Every Wednesday night they hold a Youth Group service lead by and for high school students, in the Wilson Student Center on campus.
The teen years in a person's life mark a remarkable journey from adolescence into adulthood. It is the great responsibility of Student Ministries, and parents, to guide these young people on this road to adulthood by teaching them how to have an intimate relationship with God, read and know his Word accurately, defend their faith, share the gospel with the lost, and develop deep and meaningful friendships that last a lifetime.
Our group of young people is led by our Youth Pastor, Arron Howard. Brother Arron is a wonderful man of God and is responsible for organizing Student Ministries activities.
Join us in serving the Lord on Wednesday nights in the Wilson Student Center for Youth Group Service at 7:00 PM!
Points of Interest
Youth Group every Wednesday at 7:00 PM
Contact
Have questions about Student Ministries or our Youth Group? Email Pastor Arron at or call the church at (813) 626-5383