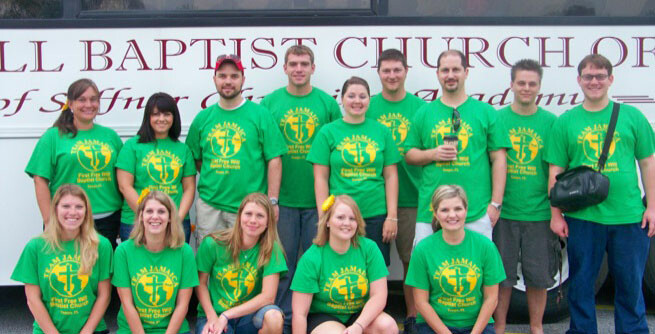 In June of 2007, the College and Career Sunday School Class chartered its' first mission trip to Kingston, Jamaica. Through the leadership of Bro. Fabian Bronstroph, pastor and leader of the Merciful Shepherd Ministries International, the team was able to minister to nearly 2,000 people the first year.
Bro. Fabian and his wife Suzette arrange ministry opportunities to public schools, orphanages and organize street evangelism. This Godly couple also houses, feeds, and provides transportation for the entire group throughout the trip.
Jamaica is a wonderful place to minister. There is no language barrier, it is a cost efficient trip, and the people are so in need of our help. The team has been able to take Bibles, candy, gospel tracts, toys, shoes and clothing to distribute as we minister to these people.
In 2008, we had several street meetings, and there were 50 souls saved. Nearly 2,000 students heard the gospel as we visited the public schools during their morning devotion time. We visited the St. Augustine Boys Home, one of the many orphanages in Jamaica. We played basketball, soccer, jumped rope, sang, and shared scripture with the orphans. Jeremiah 29:11 always comes to mind when you are in such a hopeless atmosphere. "For I know the thoughts that I think toward you, saith the Lord, thoughts of peace, and not of evil, to give you an expected end."
Our prayers were answered in 2009 when we were able to offer a medical clinic while in Jamaica. We have several nursing students in our class who had expressed an interest in providing care for the people of this country. The medical team was able to treat 160 people and there were 78 souls saved. We felt we should use Christ's approach. He would meet people's physical needs and then He would meet their spiritual needs. We were able to treat the people's physical ailments, dispense medication, and pray with them following their evaluations. The group also worked at The Anderson Children's Home and were able to build a room on a house for a man with cancer.
The Canaan Land Free Will Baptist Church also joined our group in 2009. As a result, their love for missions flourished and they will now be traveling on their own to minister to these same people every year. 2 Thessalonians 1:10-11 says, "When he shall come to be glorified in his saints, and to be admired in all them that believe (because our testimony among you was believed) in that day. Wherefore also we pray always for you, that our God would count you worthy of this calling, and fulfil all the good pleasure of his goodness, and the work of faith with power". We are blessed to be worthy of this calling!
Please pray for our upcoming trips to Jamaica. Without the prayers of God's people, we would not be able to accomplish anything on these trips. If you'd like to donate items, please see the list below for more information.
Team Jamaica Needs
If you're interested in helping us prepare for our trip in 2015, please bringing these items on the given months. Please make sure that the items being donated will not be expired by June of 2015.
| | |
| --- | --- |
| August: | Adult Vitamins |
| September: | Children's Vitamins |
| October: | Tylenol |
| November: | Ibuprofen |
| January: | Hydrocortisone Cream |
| February: | Antacids |
| March: | Triple Antibiotic Cream |
| April: | Saline Eye Drops |
| May: | Antifungal Cream |
| June: | Children's Cold Meds |