Visiting for the first time?
Welcome to First Free Will Baptist Church!
We understand that visiting a new church can sometimes be overwhelming. We want to set your heart and mind at ease and allow you to experience the presence and love of God in our service without worrying about what to do on the day you arrive. The following is what you can typically expect to see in any service during your visit, as well as secondary resources available to you during that time.
What to Expect
Service Start Times
Our Sunday morning worship service starts at 11:00 am, Sunday evening worship starts at 6:00 pm, and Wednesday night prayer meeting starts at 7:00 pm. If you're planning to attend one of these services, it is advisable to arrive ten to fifteen minutes prior to start time to give yourself time to park and find a seat in the sanctuary.
Sunday School
If you'd like to attend one of the many Sunday School classes we offer, class starts every Sunday morning at 10:00 am. We have classes for all ages if you have children with you. For more information on where the classes are located, please see our Sunday School page.
Visitor Recognition
On Sunday morning, first time visitors are requested to identify themselves at the start of service by raising their hand. You're not required to speak or give your name. We just want to make you welcome by giving you a small gift bag and a visitor card to fill out.
Nursery and Junior Church
We have a Nursery and Junior Church if you have children with you. They aren't required to attend either of them, but it does give the kids church related activities to do while the adult service is running. The Nursery is available every service. Junior Church is only available on Sunday mornings. For more information on both, please see our Services page.
Youth Group
If you're visiting on a Wednesday night, our youth group holds their own church service called "Youth Fest" in the gymnasium on campus for 5th through 12th grade students. Your teen is more than welcome to attend and worship the Lord with our youth group. For more information, see our Student Ministries page.
Parking
We offer onsite parking for all our guests. Handicap parking is also available for those that require it.
Location
Our church is located on the corner of US Highway 92 and 579 across from the Masters Inn. The address is 11605 U.S. Hwy 92 East, Seffner, FL 33584.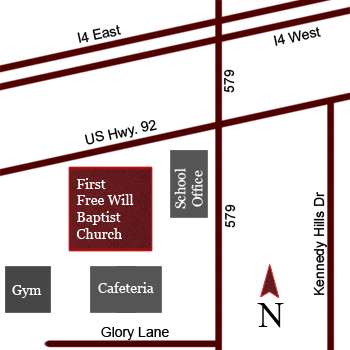 Visitor's Information
Did you visit us recently but forget to fill out the visitor's card? Fill out the form below and send it to us! We'd love to get in touch with you again.