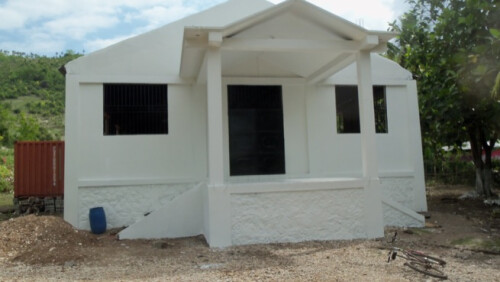 One of the great ministries of our church is our Haiti Missions work. Brother Molin Jeannot and his wife, Priscile, are a wonderful Christian couple that God has sent to bless our church in a special way. They truly love the Lord, and they have three sons, Molin Jr., Hughes and Peter, who are currently attending Christian schools or colleges. The Jeannots are originally from Haiti, and they have found their church home with us at First Free Will Baptist Church of Tampa. Years ago, Molin's brother, Frankel, visited our church and expressed the desire to start a church back in Haiti where he and Molin were raised. Our church rallied around the idea, and, in just a few years time, both a church and school have now been established.
Each year a group of our church family travel to Cayes, Haiti, to do medical mission work in the impoverished area. Medicine, clothes, food, Bibles and gospel tracts are taken to be a blessing and help to the native people. This ministry has seen many Haitians accept the Lord Jesus as their Savior during these trips. Our folks have also had the privilege of treating multitudes of the Haitian people who have medical needs. This work has also seen a well purchased from which the Haitians are able to draw water. Prior to the completion of this project, the Haitian people would have to walk several miles to draw their daily water.
God is doing marvelous things through the Haiti Missions work. He has enabled us to build a much larger church building to meet their growing needs. The church membership has grown to well over 200 people, and the Christian school has an enrollment of over 150 students. We praise God for the great things He is doing in Haiti, and we are humbled to realize He is using our people to get His work accomplished.
How to Help
Haiti is the poorest country in the West hemisphere. However, God is not done yet with Haiti. The unprecedented earthquake in January, 2010 destroyed much of the island beyond recognition. However, there is still hope for these people. God is still a merciful and a compassionate God. If you feel that you would like to help the Haiti Mission, it must be the majestic voice of the Holy Ghost speaking to your heart. Please do not resist His calling for He cannot be mistaken. He is counting on you to help Him change a life in Haiti either spiritually or socially. It can be a child or an elderly person.
Three Simple Ways to Help:
Pray for the Haiti Mission to achieve its goals.
Donate time through skills (carpentry, plumbing, electrical work, medical workers etc.)
You can help financially.
Lack of funds can definitely impede the Haiti Mission from achieving its goals. The Haiti Mission has several projects and expenses such as: church construction, school construction, medical clinic construction, teachers' salaries, and many other hidden expenses that cannot be realized without financial support. If you feel in your heart that supporting preaching the good news, encouraging education, and helping the needy in Haiti is a necessity, please help us with this worthy ministry.