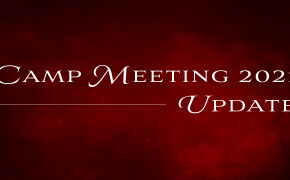 Our 2021 Camp Meeting has been canceled. Please read this for more information.
Due to COVID and the ongoing world-wide pandemic, we've made the decision to cancel our 2021 Winter Camp Meeting in the traditional sense.
While it's sad we won't be able to fellowship and worship in person with many of our brothers and sisters in Christ this year, we're still planning to have special preaching and singing for our services throughout the month of January.
If you have any questions, please contact the church office at (813) 626-5383.